Freeview Recorder A2 - Android TV, YouTube, 1TB HDD - Super Box
Freeview Recorder A2 - Android TV, YouTube, 1TB HDD - Super Box
Product Code: A2

$439.00
Ex GST: $381.74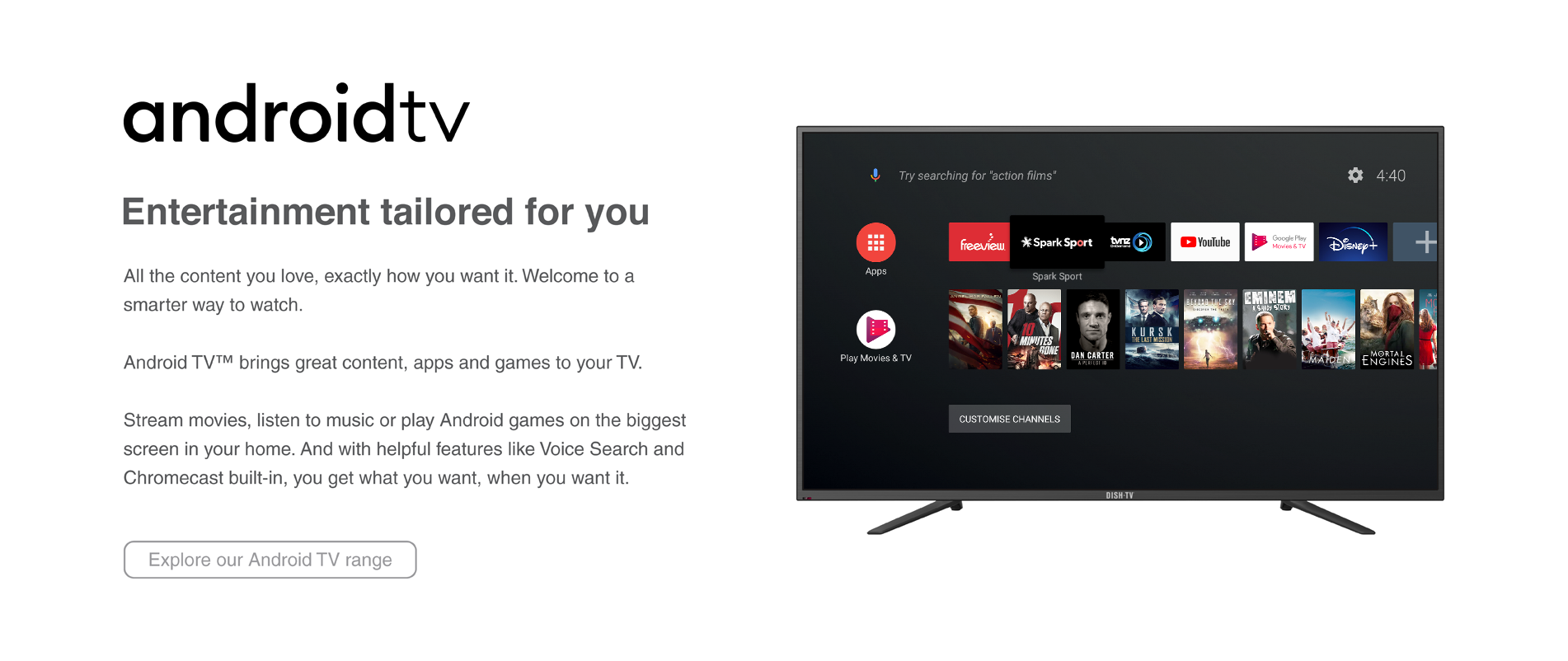 Discover TV Freedom
Introducing the Freeview Super Box from Dish TV
This Freeview Recorder is our first PVR powered by Android TV.
It brings you great TV and movies you can watch, record and stream - all subscription-free; plus extra content you'll be free to explore on Google Play.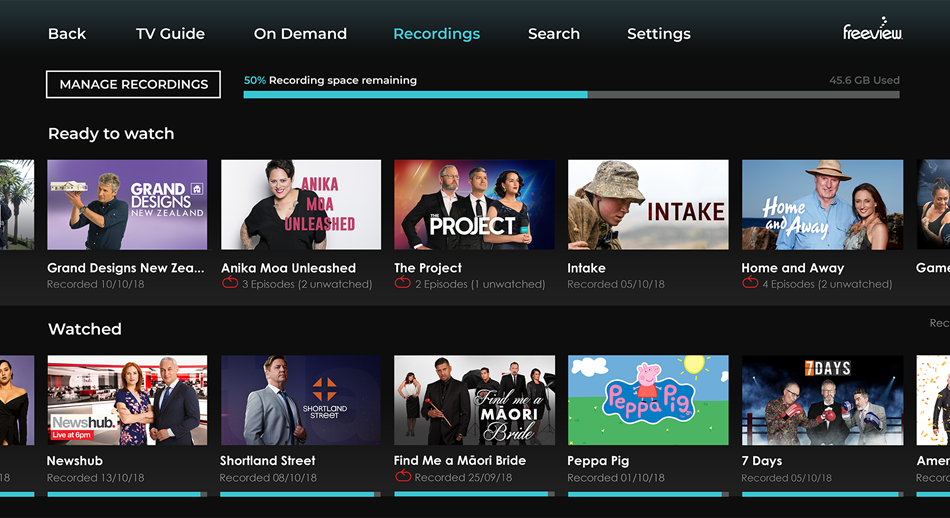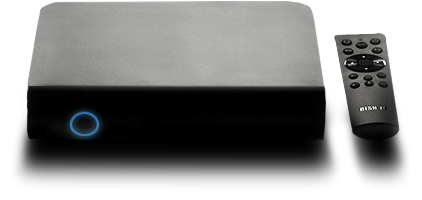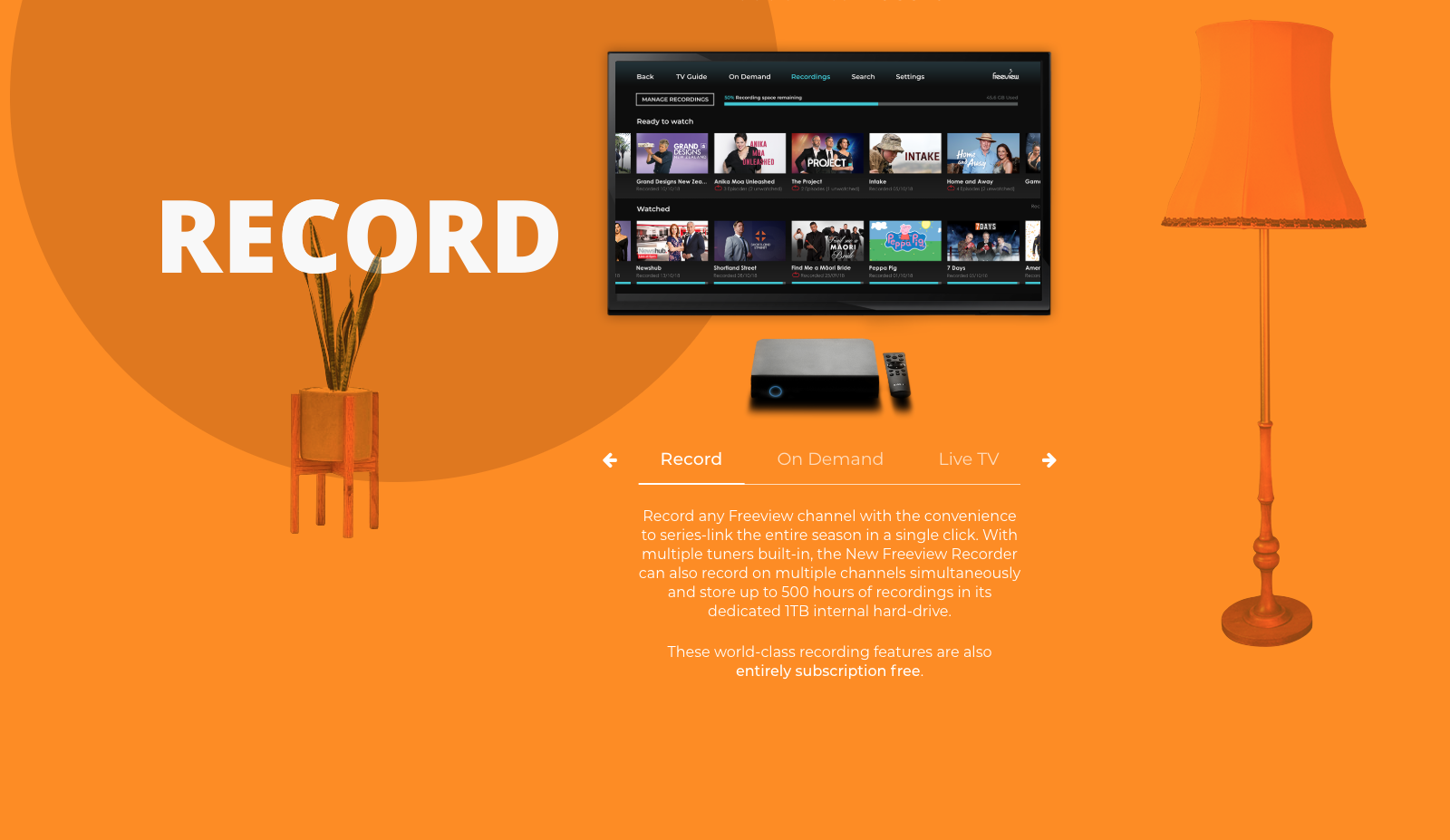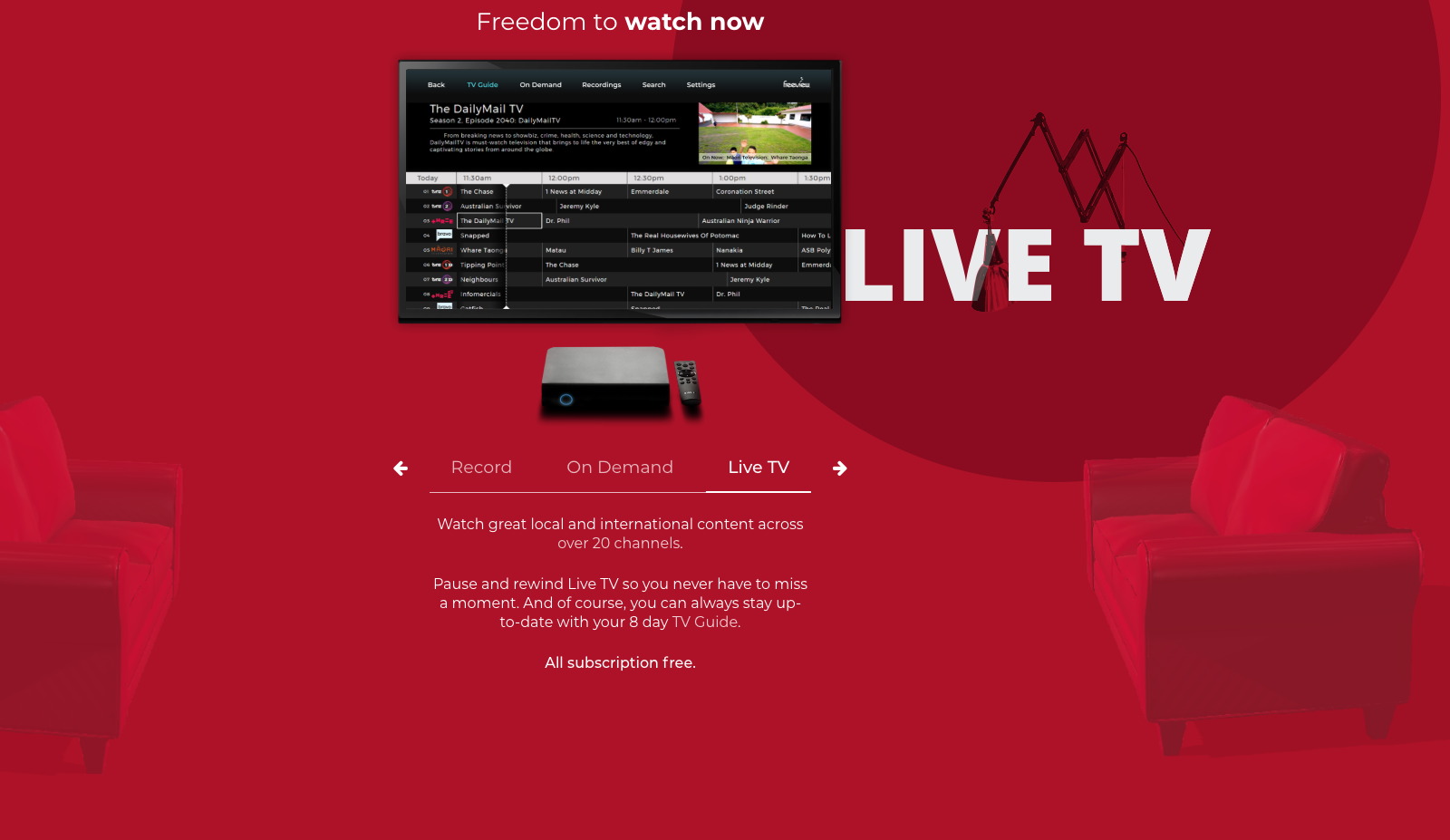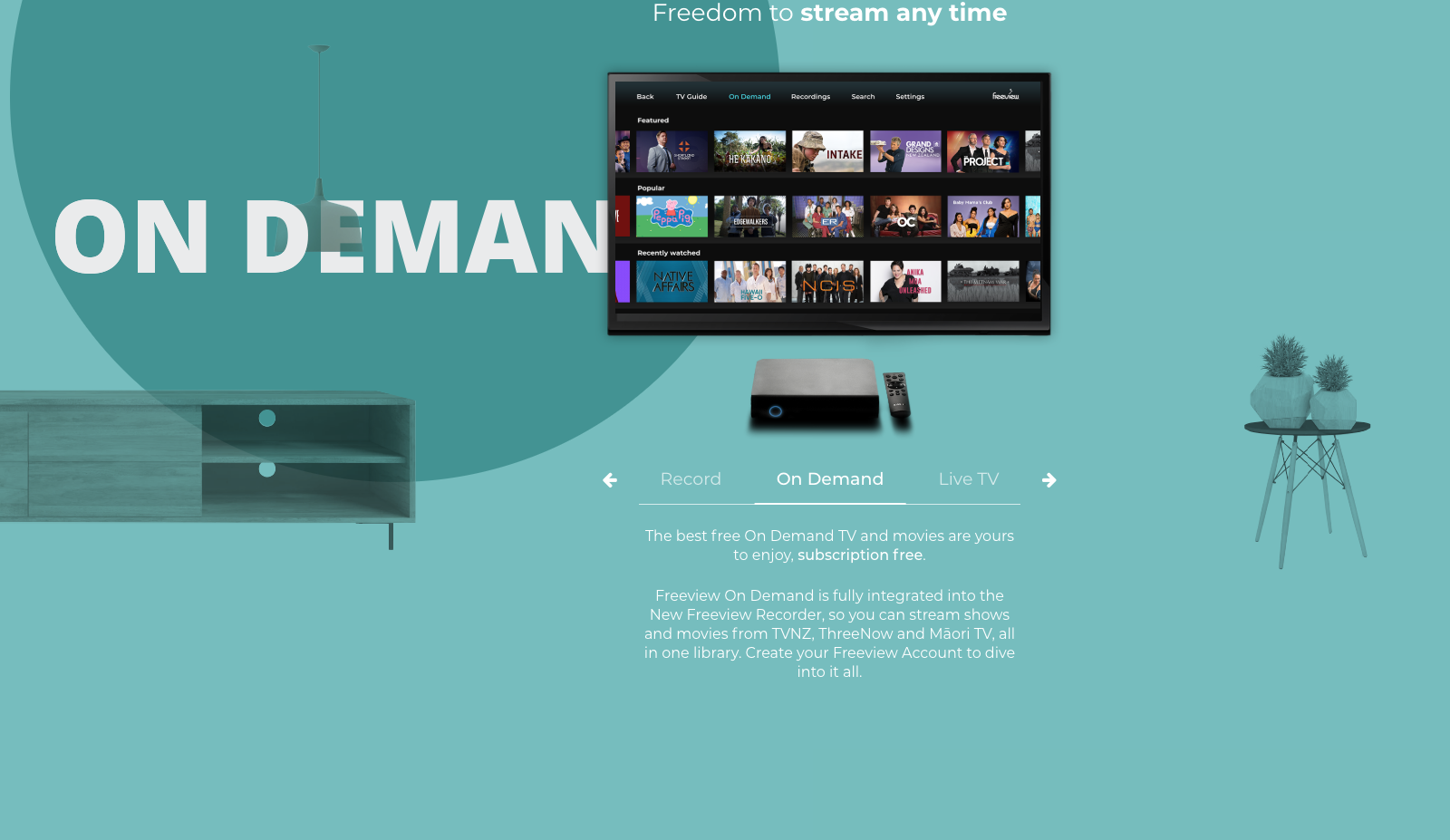 Freedom from fees.
One-off purchase of the New Freeview Recorder provides you unlimited access to all the above Freeview features – Live TV, On Demand & Record – completely free of subscription fees.
You can say goodbye to those monthly bills and just be free to enjoy TV.




Just Say What You Want
Press the mic button on your remote and tell Android TV what you want. Try "Jurassic Park", "romantic comedies set in London" or "what's tomorrow's weather forecast?"






From One Screen to Another
Cast movies & TV shows, music, games, sports and more – from Android, iOS, Mac, Windows or Chromebook to your TV.
Just tap the Cast button on your mobile app to start playing on your TV.








Freedom that Fits
The first Freeview PVR in New Zealand with multiple UHF and Satellite tuners built-in.
You can simultaneously record multiple channels and use your Freeview Recorder anywhere with Freeview coverage.
And because it's compatible with UHF aerial as well as satellite dish (or Sky dish) – setting up will be a breeze.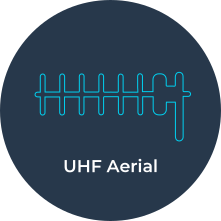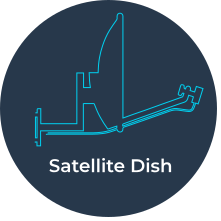 Get the Freeview Super Box Recorder today!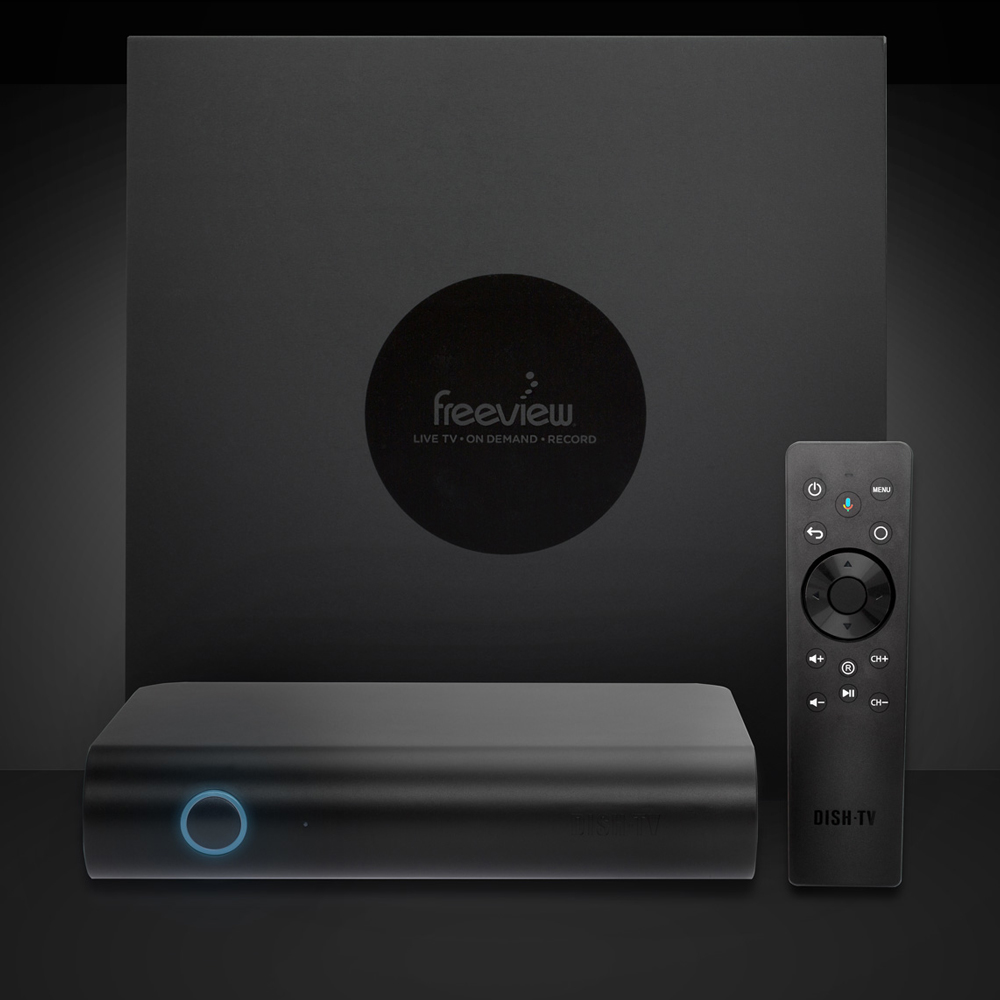 What is Android TV?
Android TV™ brings great content, apps² and games to your TV. Stream movies, listen to music or play Android games on the biggest screen in your home. And with helpful features like Voice Search and Chromecast built-in¹, Android TV makes your TV smarter.
Freeview Live TV
The Dish TV Super Box is a Freeview Certified Recorder for use with UHF Aerial OR Satellite Dish³. Access a great range of channels broadcast nationwide. So no matter where you are, you can enjoy quality TV and Radio. With Auto Tune and LNB Search for Satellite, along with Auto Channel Scan for UHF Aerial, in a few simple steps you can bring the complete range of Freeview Channels straight to your TV.
Built-in 1TB Hard Drive
Record four channels at once with the Quad Satellite Tuners OR record two channels at once with the Dual Terrestrial Tuners. With the built-in 1TB Hard Drive allowing up to 500 Recording Hours, that should cover even the longest of vacations.
Featured Apps

• Spark Sport
• TVNZ On Demand
• StuffPix
• Lightbox

Specifications:
• OS: Android TV
• Freeview: Live TV, On Demand* & Record
• Use with UHF Aerial OR Satellite
• Digital Tuners: 2x DVB-T/T2 and 4x DVB-S/S2
• Wireless: 2.4GHz/5GHz (802.11 b/g/n/ac)
• Hard Drive: 1TB Internal (Approx. 500 Recording Hours)
• Resolution: 4K ULTRA HD + HDR
• Bluetooth: Bluetooth 4.2 + EDR
• CPU: Quad Core ARM Cortex A53
• Memory: 2GB DDR4 RAM
• Dimensions: 180 x 220 x 47 mm (HxWxD)
• Weight: 0.58 kg
• Power: 12V, 2.5A
What's in the Box?
• Dish TV Freeview Recorder
• Bluetooth Remote Control
• Power Adapter
• HDMI cable NOT included
(Please note that we do not include an HDMI cable because many high definition fans prefer to use their own HDMI cables, and if you are upgrading from your current Freeview receiver, you will probably already have your own HDMI cable. If you do not have one, you can include one in your order - see the related products below)
Connections:
• Antenna IN: UHF Aerial
• Satellite IN: Satellite Dish
• WiFi: Dual-Band Wireless
• Ethernet: 100Mbps
• HDMI: Up to 4K UHD
• USB: 2.0 (5V/0.5A)
• Power Supply: DC IN (12V/2.5A)
Copyright © 2018 Dish TV Technologies LTD. Dish TV is a trademark of Dish TV Technologies LTD.
Google, Google Play, YouTube, Android TV, Chromecast and other related marks and logos are trademarks of Google LLC.
¹Casting optimized for selected services only. Streaming quality for other content might vary. ²Subscriptions may be required for certain content providers. ³Channel selection is limited when recording two channels at the same time via Terrestrial (UHF Aerial), some channel combinations may not be available. *Applications such as Freeview On Demand require broadband access through an ISP; their usage will count towards the data limit of your broadband plan. ISP terms and charges apply.
Freeview
Satellite
Yes - Quad Tuner
Terrestrial
Yes - Dual Tuner
Live TV Streaming
No
Freeview On Demand
Yes
Operating System
Android TV
Yes
Applications
Netflix
No
YouTube
Yes
Chromecast built-in
Yes
Disney+
No
Prime Video
No
Features
4K ULTRA HD
Yes
Storage
Internal Hard Drive
Yes - 1TB
Flash Storage
Yes - 4GB Internal Flash Storage
Network Interface
Wi-Fi
Yes - 2.4GHz/5GHz (802.11 ac)
LAN (Ethernet)
Yes
Technical
USB Recorder
No
Bluetooth Remote
Yes
IR Remote
Yes